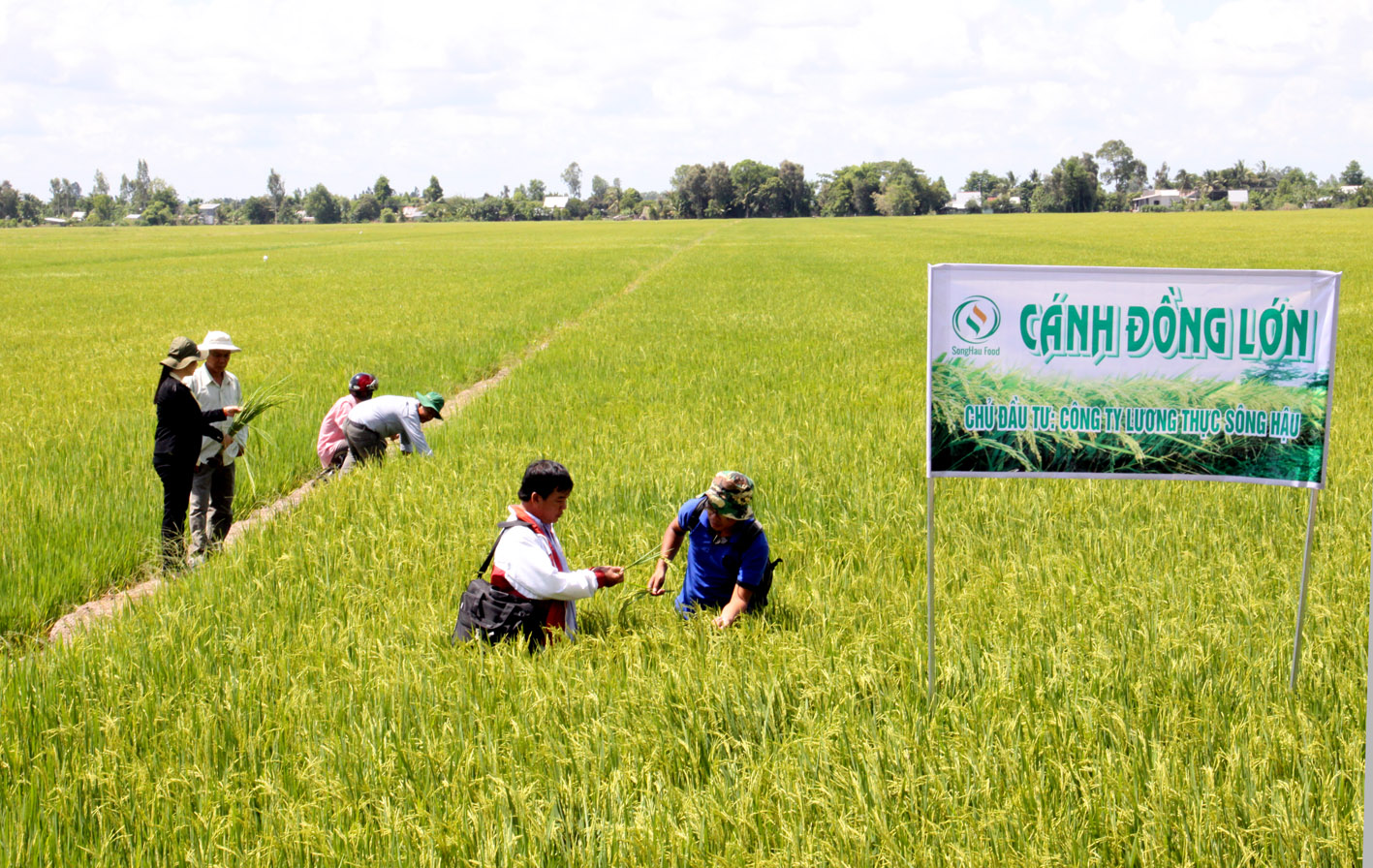 In May 2011, in Can Tho City, the Ministry of Agriculture and Rural Development has launched a movement to establish "large sample fields" in rice production in southern provinces has brought practical results. Local authorities, enterprises, farmers respond positively.
Department of Agriculture and Rural Development (DARD) collaborate with the departments and communication union, enterprises, officials and farmers to build up "large sample fields".
Model of "large sample field" has boosted 4 factors: the State, enterprises, farmers participating in a large sample field, scientific units, work together to build the specific raw materials, invest more closed dike construction, transportation systems ensure farmers applying scientific and technological advances in production, mechanization in the field is gradually implemented and create high quality of the rice raw material.
Since 2002, Song Hau Food Company has signed off - take agreement of farming goods and associated production with farmers through the connective organization of production, cooperatives in the districts and communes in Can Tho, Hau Giang to help farmers produce towards sustainable production and apply technical solutions synchronously to increase productivity and quality, improve the income of farmers, as well as stable quantity and quality the input materials for the company.
The company has signed contracts with reputable seed units in Can Tho City for certified seed sources to ensure the best quality for farmers in the area of materials. In addition, the company signed 03-party-contracts associated with the Pesticides and fertilizers Companies to provide inputs for farmers, which will help farmers reduce input costs and increase profit.
Besides, the company assigns technical staff to visit field regularly, technical advice as well as give warning, prevent pest insect in rice field to guarantee the paddy plants to grow best.
Enterprises must build material area which is inevitable direction of sustainable agricultural production. However, to get effectiveness of model as its meaning, there are many problems that need to be solved: the need to upgrade water transport system; promote the public information to motive farmer to participate and enhance people's awareness...